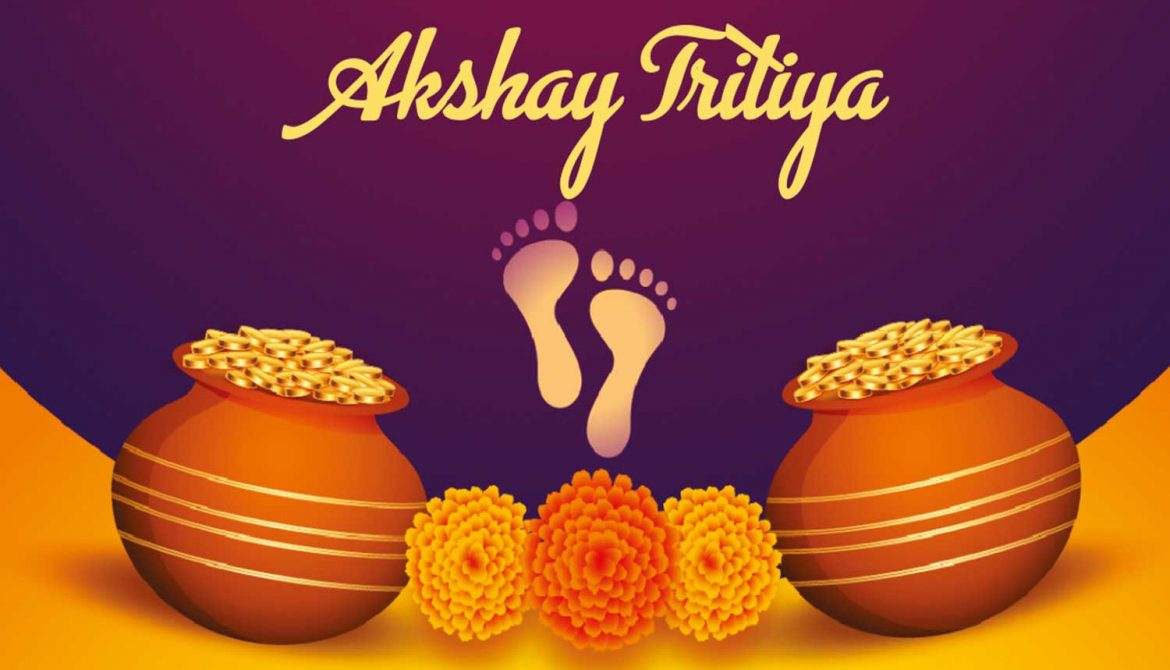 Uncategorized
AKSHAY TRITHYA – Celebrate Wearable Investments that Shine !
Unknown to many, Akshaya Tritiya is the birth of Parshuram, an avatar of Lord Vishnu. Akshay means "never diminishing" and Tritiya is representation of the 3rd day of the bright half of the Baisakhi month. It is also known as Akha Teej in some parts of the country. A Hindu festival, as part of the celebration, we actually pray for Prosperity and for Good Luck. Since Gold is regarded as a noble metal and a clear symbolism of prosperity, lots of Hindus buy Gold and Gold Jewellery to invoke prosperity into their homes. At the same time, the elders of the family also distribute and do a lot of charity in the form of garments, food-grains and even gold/silver to the lesser privileged. In fact even in the fruits that are distributed, Mango, being the golden fruit has a dominant presence.
Though this date started to be regarded as a festival in South India first, but the fervor has spread all over the country. In fact even in Varanasi in Uttar Pradesh, it is on this day that the feet of Banke Bihari are seen in the temple and people travel all the way for Ganga Snan. Jewellers in Tamil Nadu, Karnataka, Andhra Pradesh always see huge queues from 6 am onwards and this jewellery buying frenzy has gone across to Maharashtra, Gujarat, Odisha, U.P. and other parts of the country. Typically the purchase would be Gold Coins, and they would be booked in advance and picked up on that particular day, and some even pick it at a particular auspicious hour. But with time, and functional, customers started buying gold chains, bangles and even maalas. In todays times and with the newly emerging lady of the house being a high-salaried employee / entrepreneur, she has given an altogether different perspective to this Celebration of Wearable Investments. Anything that shines and sparkles and appeals to her design and economic sensibilities is a worthy buy. It could range from Silver to Gold, Platinum to White Gold, Diamonds to Studded Gemstone set gold jewellery with polkis for effect. The right jewellery complementing her taste and the timing of the purchase is important. Gold Coins have become an add-on to the actual purchase nowadays with the new age consumer. The elderly and the conservative still look at this day as being one where they keep collecting 5 gram or 10 gram gold guineas from the local jeweler irrespective of the price of the metal.
At Pandit this year, Akshay Tritiya comes during a time where the entire nation is in a semi lockdown phase because of the pandemic. Last year we were not so prepared to take on the Akshay Tritiya orders with shutters being down for a larger part of April. This year, we are not only equipped to take on the orders through telecalling at our store, but are also geared to represent a large part of our stock online at our website and also on our social media platforms.
Do call on us and you can either :
Book your Gold/Silver Coins for delivery on Akshay Tritiya
Shortlist Gold or Diamond Jewellery and keep an Advance to block the piece for you
Check out the range of Divine Solitaires and pick up your budgeted certified solitaire
We look forward to seeing you at the Celebration of Shine & Sparkle, this Akshay Tritiya!