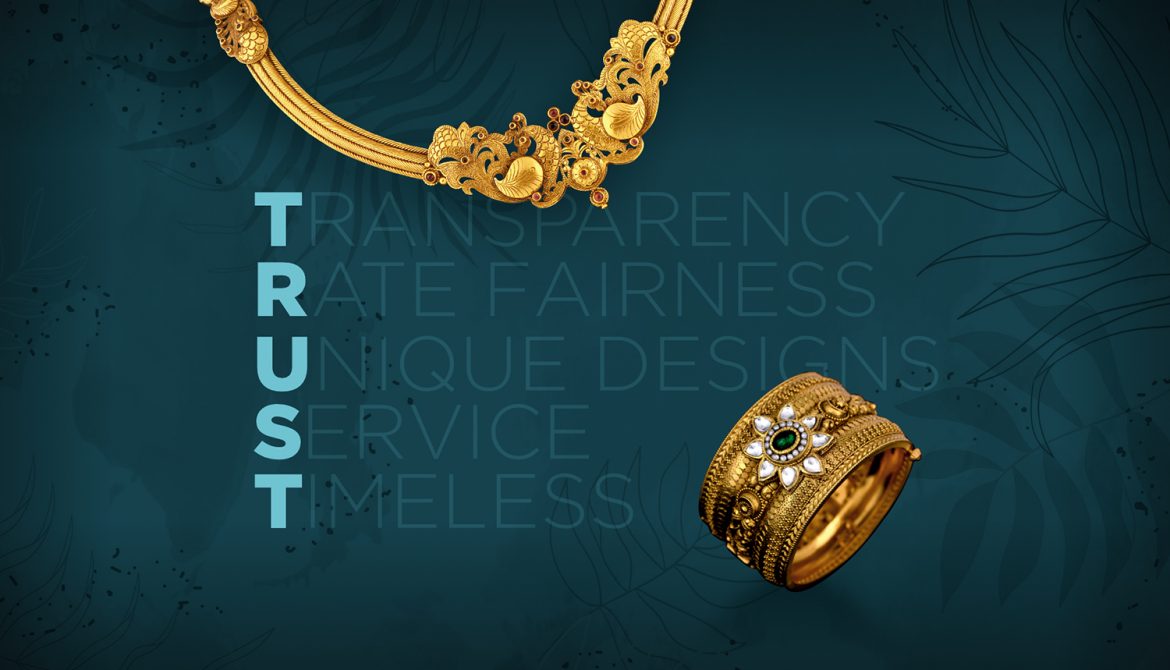 Founded in 1904 and nurtured through 5 generations of the Pandit family, the word TRUST has been earned and rightly so. To us TRUST is not a noun to advertise but a faith to live upto in every aspect of our operations. Unflinchingly hence, we have lived, worked and prospered and that was only possible because of the support of the locals of Bulandshahr, Anoopshahr, Jahangirabad, Khurja, Siyana, Shikarpur and many other smaller towns nearby. We owe our Trust to You!
So what does TRUST mean to us at Pandit Jewellers?
For us its an abbreviation standing for all that each word imbibes in spirit.
T – TRANSPARENCY
R – RATE FAIRNESS
U – UNIQUE DESIGNS
S – SERVICE
T – TIMELESS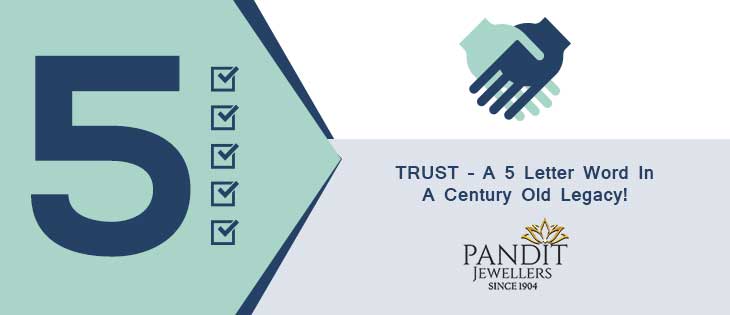 TRANSPARENCY is our trademark as we not only showcase gold weights, diamond weights, gemstone weights, bead and pearl weights. In doing so you actually know what you're paying for and how much. We only sell BIS (the only govt approved body) Hallmarked Gold Jewellery and also retail Platinum with the official PT mark. Solitaires and high end diamond jewellery are also supported by Authenticity Certificates.
Customers buy from us as we are a RATE FAIR jewellery store – whether you're buying gold or diamond jewellery, there is no extra charges levied as in the case of most top national companies who use brand equity to charge extra. We understand that for most of our customers, a jewellery purchase sometimes, happens just once in a few years, and it happens with years of their savings. Every 1000 rupees extra matters to them and hence we make a genuine effort to stay fair rated and minimize our margins. We may not be the cheapest, but we surely know that we give more value than we charge for. And you would realize so, if you compare in totality of the purchase.
Times in Bulandshahr have changed drastically since the past 3 years, and today we have a traditionally run store in the Saraffa but we also have a store with a modern outlook at D.M.Road. Keeping in tune with the new customers UNIQUE DESIGNS are being sourced and even specially manufactured from factories in Mumbai, Surat, Kolkata, Rajkot, Delhi, Coimbatore and even internationally. We have also got in international entities like Divine Solitaires, Platinum Guild International, Being Human as part of our unique jewellery offerrings for the new age women lovers of jewellery. None other in Bulandshahr has it all under 1 roof.
We SERVICE with diligence not only those from middle class and lower middle class backgrounds, but our services also excel when it comes to dealing with Doctors, Lawyers, Govt Officers and Professionals as the situation may demand so. Whether it is home deliveries, repairs and renewals to existing jewellery, customized orders, new design development, approvals and advances, our team have been trained to provide service deliverables with a smile.
TIMELESS , we remain inspite of having faced the trials of 117 years of existence. Every decade has faceted the city of Bulandshahr differently and hence also the jewellery customers. However our understanding of our customer in terms of their likes, economic standing, upcoming trends has been such that "the true Bulandshahr jewellery consumer" always comes back to us for the Timeless comfort that she derives from her shopping experience with us at Pandit Jewellers.
"Trust is more than what one see's, Trust survives the worlds disease"